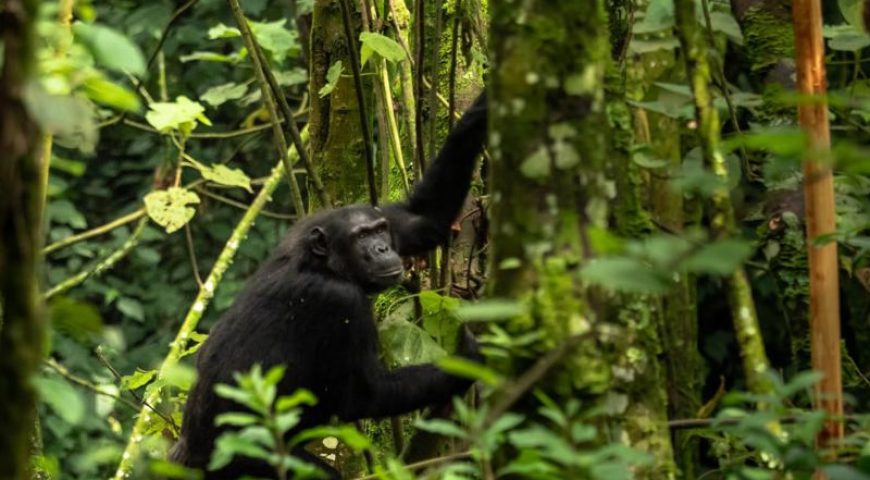 What to do in Gishwati Mukura National Park
What to do in Gishwati Mukura National Park? The park has got so many activities that travellers can do and enjoy while on a visit to the park these include
Primate watching
The number of chimpanzees had reduced but has increased slowly because of government support of wildlife. The park has got golden monkeys, blue monkeys, vervet monkeys, and 20 chimpanzees. Because of the chimpanzees, Gishwati is soon turning into a leading destination for visitors interested in chimpanzee trekking which starts at 5:00 am by briefing then you're given a guide and the youngest visitor to track chimpanzee should be 15 years old
Birding
Gishwati Mukura National Park has over 390 bird species in the park .15 species only sighted in the rift valley i.e. The Grew crowned crane, martial eagle, mountain yellow warbles, Purple-breasted Sunbird, Red-throated Alethe, Regal Sunbird, Ruwenzori Batis, Ruwenzori Turaco, Weaver birds, Wood hoopoes, Strange weavers, and the Stripe-breasted.
Hiking and guided nature walk
The Park has got so many well develop routes to enable visitors to move the whole park because it's small. This allows you to see the beauty of the park, creatures like the chameleon, insects, butterflies, birds, and primates. You will see different tree species e.g. the ferns and bamboos among others
Cultural encounters
The Park has worked with communities near the park, different cultural activities are done to benefit local people cultural activities include visiting local people and homesteads .the local people make crafts and sell them to visitors for money. They prepare local food and have gotten traditional dances.
Cycling through the Congo Nile trail
The trail was designed to pass through the shores of Lake Kivu and Ngungwe forest.it gives a chance to study and explore the life of rural people
What to see in Gishwati Makuru National Park Rwanda
Primates of Gishwati Mukura National Park: Being a thick forest it's one of the great habitats of primates.it has a variety of primates such as chimpanzees, baboons, golden monkeys, L'Hoest's Monkeys, vervet monkeys, blue monkeys, black and white colobus monkeys apart from these the park has other animals like cats and reptiles
Birds of Gishwati Mukura National Park: Gishwati is a leading primary birding destination in Rwanda with over 390 bird species i.e.  Regal Sunbird, Grauer's swamp warbler, Ruwenzori Batis, Wood hoopoe, Purple-breasted Sunbird, Martial Eagle, Strange weave, Grey Crowned Crane, Dusky Crimson wing, Ruwenzori Turaco, Mountain Yellow Warblers, Red-throated Alethe
Different tree species. The parked being gazetted in the forest  that's is Gishwati  forest on an area of 1439.72 hectares and  Mukura forest on 1987.74 with over 58 species, these trees act as habitat for wild animals do you expect to see different trees species  like ferns, hagenia abyssinica, macaranga and much more which can be used for research