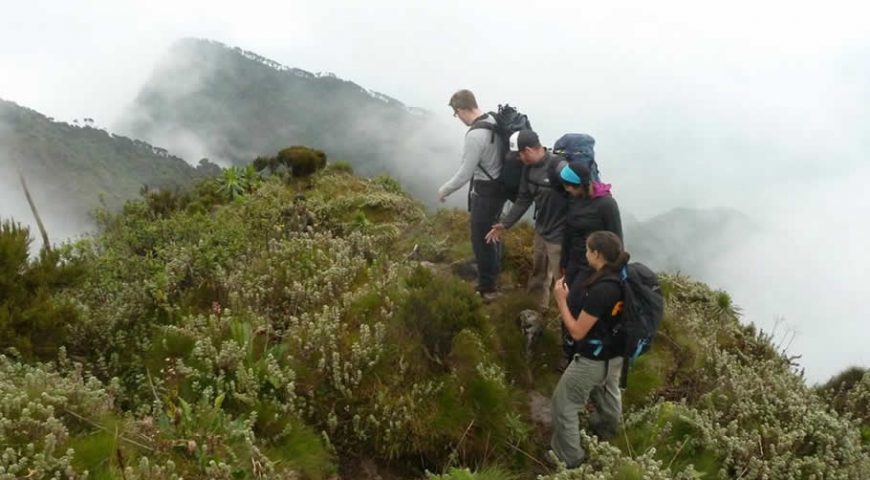 What to do in Mgahinga gorilla National Park
What to do in Mgahinga gorilla National Park? Various activities can be done in the park such as gorilla trekking, golden monkey trekking and hiking experiences
Golden monkey trekking safaris 
Besides gorilla trekking, the other main tourist activity to do in Mgahinga Gorilla National Park is golden monkey trekking. Golden monkeys can only be seen in Virunga Massif in the whole of East Africa. The block of Virunga Massif is composed of Uganda, the Democratic Republic of Congo, and Rwanda. Golden monkey trekking is done in Mgahinga gorilla national park in Uganda of all the ten National parks that Uganda has. Similar to gorillas, golden monkey tracking start with a briefing, and tourists are allocated a particular group to trek. Golden monkeys tend to move a lot but tracking them usually takes 30 to four hours. Golden monkey tracking costs 100USD for the permit and you will as well spend 1 hour once they are spotted. Mgahinga gorilla national park has about 42 to 60 well habituated golden monkeys that are available for tracking by tourists.
Bird watching safaris 
Mgahinga Gorilla National park offers the best places acting as homes for different bird species. You can spot a different kind of species of birds found in forests, caves, and mountains. Over 175 bird species have been recorded in Mgahinga gorilla National Park. Different trails are available leading you to several bird species. The best trail is the gorge trail that lasts for 3 hours between Sabinyo and Gahinga mountains where you can spot bird species such as a black headed waxbill, Rwenzori batis, cape robin, Olive pigeon, and others. Other trails include a bamboo trail that harbors Rwenzori turaco, Red-faced woodland warbler, Blue-headed Sunbird, Cape robin chat among others. Birding safaris in Mgahinga Gorilla National park are carried throughout the year but most bird nests from November to April and also when migratory birds come from Europe.
Mountaineering/Hiking safaris 
Mgahinga Gorilla National Park has three dormant volcanoes which include Sabinyo Muhavura and Mount Gahinga. No tourist visiting Mgahinga Gorilla Park can miss these highly elevated mountains.  The three mountains stand at the border of Uganda, Rwanda, and the Democratic Republic of Congo. Most of the hikers find hiking Mount Sabinyo very interesting. Up reaching the peak of Mountain Sabinyo, tourists will be standing in three countries at the same time and this is a hike that takes the whole day or two o hours as compared to the other 2 mountains. Travelers who cannot manage hiking Sabinyo because of its high altitude (3669 meters)  can as well hike opt for an easier trek of Gahinga which lasts for hours .you will encounter amazing vegetation types comprised of different species such as wood, bamboo, and forests which are interesting.
Mountain Sabinyo
Mountain Sabinyo is one of the mountains that provide the best hiking experience to visitors coming to Uganda. It is located in Mgahinga Gorilla national park in southwestern Uganda and usually, visitors for gorilla trekking safaris in Mgahinga National park incorporate hiking Mt.Sabinyo. The name Sabinyo originated from Kiryarwanda's word Irinyo which means the tooth. The mountain has a sharp steep slope and posses crater lakes. To overcome the challenge of hiking this hill, the Uganda Wildlife Authority came up with locally made had ladders to enable visitors to access the last peak of Mt. Sabinyo.
Visitors can take a hike to the peak which will last for about 8 hours. Mountain Sabinyo is 12037 feet high and it borders the 3 countries of Uganda, Rwanda, and D.R.Congo  and the whole journey from the foothills to the peak and back is about 14 Kilometers. You will pass via the steep slopes as you enjoy the magnificent views of the Mgahinga National park as well as the crater lakes seen before linking up to the summit. The mountain is covered with forests majorly the montane forest vegetation and previous hikers have describes it as one of the best rewarding experiences as compared to Muhabura and Gahinga mountain.
Visitors will need to first contact with UWA before the hike to get clearances, the ranger guide as well as making payments. The Sabinyo hiking permits cost USD 85 per person which includes the ranger fee and the park entrance fee. Sabinyo Mountain can be best hiked during the dry season when the weather is clear. Visitors are the first briefed and after the briefing, you may be given a walking stick and porter services are also available for hire. You can start the hiking on flat swampy areas as you ascent to the steep slopes on your lucky day you might see primates such as golden monkeys crossing in addition to watching different bird species as you ascent or descent to the mountain. As you plan to go to Mgahinga gorilla National Park, you can also think of engaging in hiking the Sabinyo Mountains.
Mountain Gahinga
At 3,474 meters high, Mt. Gahinga provides a hiking experience to visitors to Mgahinga Gorilla National Park. Mt. Gahinga takes about 6 hours as compared to Sabinyo and Mt.Muhabura. The summit of mt G5ahinga is filled with a crater lake covered with swamps and lobelia. As you hike, luckily you may see golden monkeys, especially when walking via the bamboo forests. The Gahinga Trail commences at farmland and spreads to the unspoiled forests. The scenery is interesting with breathtaking and enticing. Giant bamboo occupies the vast areas of the trail with, jungle elephant footprints the continue far deeper in as you you explore different bird species.
Mountain Muhabura
While in Mgahinga Gorilla National Park, visitors can also feel the hike of mountain Muhavura. Mountain Muhavura has got the highest summit of all the mountain ranges that are shielded by Mgahinga National Park. The highest peak of mountain Muhabura stands at 4,127meter  high and it takes 8 hours to hike up to the peak. As the hiker, you need to be physically fit to successfully reach the peak thus this requires you to make some simple exercise. Upon reaching the summit of Mt. Muhabura, you will be filled with magnificent views of Volcano ranges, Mountain Rwenzori, the spectacular views of Lake Edward, and Bwindi Impenetrable Forest National Park.
Visitors have always incorporated nature walk safaris with hiking in Mgahinga Gorilla National Park. It is hard to avoid hiking during the guided nature walk safaris because the park itself is hilly. There are different and many spectacular places in Mgahinga National park that you can tour when on nature walk safaris as you encounter different attractions and species of interest.
Cultural safari tours 
You can as well participate in cultural safaris to the villages and communities adjacent to Mgahinga Gorilla National Park. Different communities are surrounding the park the most unique is the Batwa people who once lived within the thin park before it was turned into a national park. These people are short and were depending on forests and fruits as hunters and fruit gatherers. After they were displaced some didn't go far and remained around as they are being integrated into tourism conservation efforts and support tourists as poachers and service providers.  The Mgahinga Batwa trail so experiences enriching with people learning the history of these people and some of the acts they were doing. The cultures safari tours in Mgahinga Gorilla national park are mostly led by Batwa themselves as guides so you will get firsthand information about them.
Guided nature walk Safaris 
The untamed fauna and flora that includes, gorillas, golden monkeys, forests, and mountains provide the best spot for guided nature walk safaris in Mgahinga Gorilla National park.  Different walking trails are designed to lead tourists to the best spots whether they can see different species within the park especially bird species. It is through guided nature walks that tourists can as well discover the indigenous Batwa who once lived in forests as hunters and food gatherers.  The border trail on the foothills of mount Sabinyo will lead to the interception border point of Rwanda, Uganda, and D.R.Congo. This can take you about 5 hours as you spot different primates such as monkeys and caldera that is on Gisozi hill.
Mountain gorilla trekking 
Mountain Gorilla trekking is one of the amazing activities that cant is missed by visitors on a safari to Uganda's wildness. Gorilla trekking is conducted in Mgahinga Gorilla National park other than in Bwindi Impenetrable Forest National Park. Mgahinga Gorilla National Park is covered by different vegetation types especially the forests that offer food for the habituated mountain gorilla family residing in this park. Nyakagezi is the only group that is found in Mgahinga Gorilla National Park. It is comprised of 9 members which include silverbacks, adult males, juveniles, and infants. Visitors to this park just encounter this gorilla family which offers an amazing experience.
Gorilla trekking safaris in Mgahinga Gorilla Park commences early in the morning at eight with a briefing of the trekkers by the ranger guides which is done at Ntebeko gate. Then after the trekkers are accompanied by the ranger guide and the tracker starts the memorious journey which lasts for about 2 to 4 hours.on your way trekking, your eyes will be filled with other primates residing in the forests such as the golden monkeys, monkeys, and several bird species including cape robin chart, streaky seedeater among others. visitors will also get a chance to see the magnificent vies of the mountains Sabinyo and Muhabura.
How to get a gorilla permit in Mgahinga Gorilla National Park?
Uganda wildlife Authority is the only recognized body th6at issue the gorilla trekking permits to visitors and registered local tourism operator or local agency. Therefore visitors to Mgahinga Gorilla National Park can obtain the gorilla trekking permit directly from Uganda Wildlife Authority or recognized tourism operators like Vibrant Holiday Safaris. Gorilla trekking permits are in high demand and therefore the visitors need to book these permits in advance as delays to book, you may end up losing the opportunity. The gorilla trekking permit in Uganda costs 700 united states dollars per person. Visitors can visit Mgahinga Gorilla National Park from December to February and June to October since this presents the best time for seeing the gorillas.
Batwa trails at Mgahinga Gorilla National Park
As the usual routine, visitors for mountain gorilla trekking in Mgahinga Gorilla National Park find it so convenient and interesting to visit the local community villages especially after trekking the gorillas in the forests. The locals are visited by the visitors are aimed at exploring the indigenous tribes around the park especially the Batwa's culture and how they use to live even before the park was established in the area.
The Batwa Trail in Mgahinga Gorilla National Park will enable you to explore the folks of the Batwa, what was their ways of life, as you encounter the local Mtwa guide who will be articulated how best they were at food gathering and patching practices before being evicted from the park. The place where Batwa used to gather is at Garama cave close to  Ntebeko Visitor center. You will also be entertained by the traditional dances and songs as they teach survival techniques of making fire out of local materials, hunting skills, and more others.
Visitors will spend 30 minutes to an hour participating in the Batwa trail as they experience the Batwa pygmy community. The tour commences with the elder Mutwa who is always the leader while dressed in skins,   telling you the stories of how the Batwa came into existence and how best they lived within the forest. Walking on the foothills of mountain Muhabura is very interesting as the guide Mtwa is leading you on the trail. Interesting actions await when you meet a wild animal on your trail as the guide with demonstrations will show you how best they could hunt using old traditional hunting items. Learn how these people used plants as medicines as there were no clinics and hospitals where they would go for treatment and how best they utilized the forest however as of now they no longer reside in the forest as the conservationist argued that their actions were detrimental to the environment.