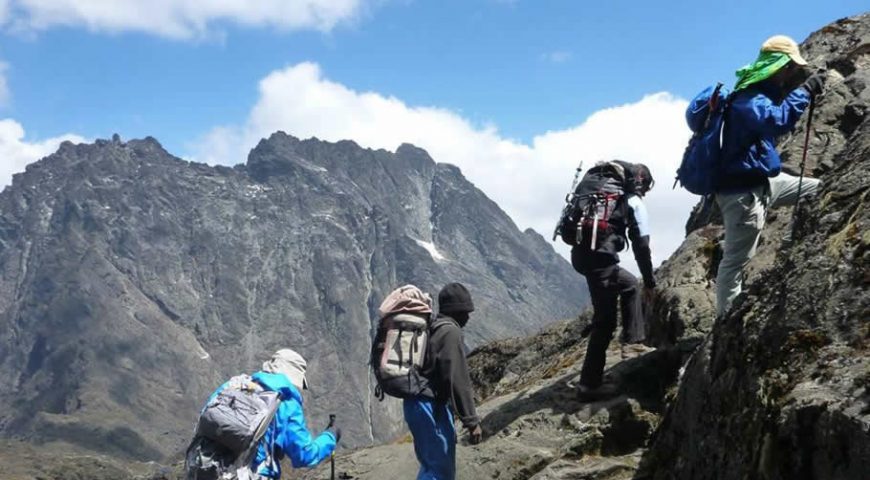 What to do in Rwenzori Mountain National Park?
What to do in Rwenzori Mountain National Park? A lot of activities can be done in the park, ranging from hiking, nature walks, bird watching and cultural encounters.
Mountain climbing tours to mountain Rwenzori in Rwenzori National park
At least one to be described as the best hiker, he or she should have climbed mountain Rwenzori. Mountain Rwenzori climbing safaris are organized superbly and visitors who are less fit may find it hard to climb up to the highest peak Margherita however, different arrangements are provided for such visitors who cannot make it to the top and shorter hiking trails are recommended. Majorly, there are two trails the prominent one being the central circuits that last for about 7 days. Visitors consider mountain climbing as the treatment for hypothermia and other fitness or altitude diseases. Another trail is called Kilemebe trails just near Kasese and it has been recently opened. Visitors will take 5 days to reach the peak of the mountain ranges.  Visitors can spend more than 9 days to explore all the major peaks of mountain Rwenzori. Rwenzori mountaineering services is the only one authorized to do mountain climbing services in Ruwenzori Mountains. Booking with a tour operator is the most convenient and the cost of mountain climbing will include accommodation, porters, rescue mission services. Visitors will need to come with their hiking items including a hiking sleeping bag, rain court, enough snacks, and warm clothes.
Foothill and nature guided forest walks in Rwenzori Mountains National Park
Visitors who are not familiar with mountain climbing can be guided to hike the Lower slopes of the mountains and engage in forest walks by participating in activities like hand fishing,  along the streams running from Rwenzori mountains. As you step for forest walks, stay up for the three-horned chameleon a rare reptile species that can only be traced in Uganda, the democratic republic of Congo, and the Republic of Rwanda.  The three-horned chameleon is male while a female one has no horns just as interesting as that.
Bird Watching Safaris in Rwenzori Mountains National park
Mountain Rwenzori National Park is a key birding destination among the 10 national parks of Uganda. The part is inhabited by bird species of which some are of Albertine rift origin and can only be sighted here. There are over 217 registered bird species in Rwenzori mountains and among the birding, species to look out for including Rwenzori turaco, Red-faced Crimsonwing,  Rwenzori Batis, Handsome Francolin,  Flycatchers, White-collared Olive-back and White-starred Robin,   crimson Wings, Apalises, Bee-Eater, blue-headed sunbird, Red-thighed Sparrowhawk,   greenbuls, Long-eared owl, Archers' Robin-chat, Lagden's Bush-Shrike, Blue-headed, and Golden-winged Sunbird Montane Rwenzori Nightjar, Montane Sooty Boubou, Olive Woodpecker, Oriole-Finch, Red-faced Woodland Warbler, Red-throated Alethe, Regal and Purple-breasted Sunbirds, Rwenzori Batis, Rwenzori Batis, Rwenzori Turaco, Slender-billed Starling, Strange Weaver, Stripe-breast Tit, Western Green Tinkerbird among others.
Culture safari tours around Rwenzori Mountains National Park
Rwenzori mountains national park offers a chance to visitors who come for adventure in this park to explore the cultural experience of the Bankonjo people that reside in the foothill of Rwenzori Mountains. Ruboni and Bakojo prove an experienced hike to visitors by learning their history and their ways of life and how best they cope up with the environment of the mountains. The  Bulemba-cultural trail is the best trailhead to explore as it will expose you to the traditional healer Blacksmith and the trail also lead you to the Bakonjo traditional museum where you can find all you need about Bakonzo including the arts and souvenirs if you're interested to buy one.
Nature guided walk safaris in Rwenzori Mountain National Park
Nature walks safaris are organized and arranged for visitors around the borders of the park by different companies. The common company used here is Rwenzori Mountain services and backer backers in Kilemebe. These nature guided walks make tourists follow the central circuit section which most of the visitors use for mountain climbing. The area around the starting point for mountain hiking is forested and with beautiful scenery and leads up to the lake Mahooma and the chimpanzee forest of Buraro. The other places to visit during nature. Your tour company can help you arrange nature walks with any of these companies.