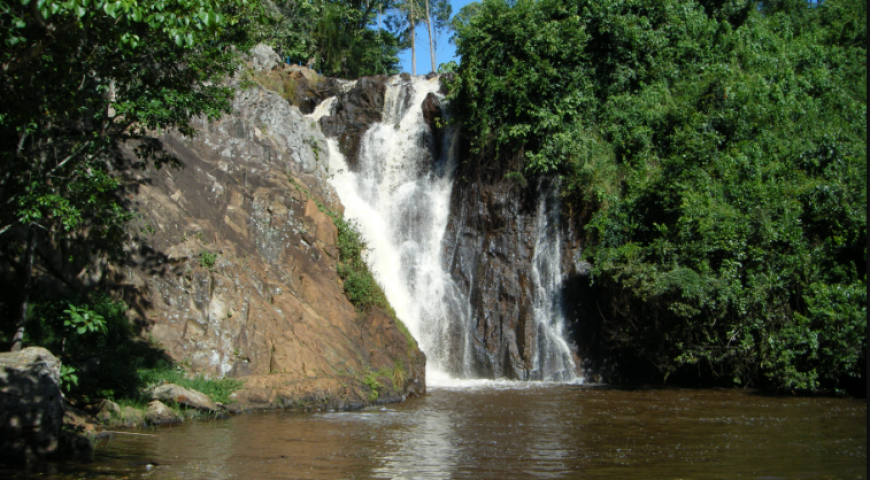 Ssezibwa Falls
Small water is found along the Kampala-jinja highway around 32km and 40 minutes to reach the falls from Kampala. it is a place that everyone who loves to pass by as you are heading to Jinja for other activities.
The falls have an untroubled natural environment that is very attractive with lots of birds and wildlife Ssezibwa river pushes over 17-meter-high rocks into a large pool which is 13meters deep long, long-tailed cormorant and African Fin foot can also be spotted in the pool at the waterfalls, in the rain forest there are small animals like the monkeys and birds.
Ssezibwa falls is a cultural ground and it is believed that a pregnant woman gave birth to twins who were informed of water and they were called Ssezibwa and Bwanda both flowing to different courses. Bwanda had a smooth flow whereas Ssezibwa was overcome and managed by a spirit called Nalongo Kkubo and that is where the name Ssezibwa was derived from and the term Ssezibwa Kkubo meaning ''My path cannot be blocked'' then later the spirit had to settle at the falls where shrines were built for other spirits too that settled at the falls and they included Walumbe the 'god of life and death and Musoke 'the god of rain'. The traditional believers especially the Buganda kings and the traditionalists went to the shrines to ask for favors, blessings, success, and health among others with sacrifices of livestock which were taken to appease the spirits. it is common to find dead animals like goats, and sheep among others at the bottom of the falls which have been killed and dropped to feed and appease the spirits.
The Buganda kings also planted trees around the falls and the wild Olive tree there was planted by Kabaka Mwanga in 1889.
ACTIVITIES AT THE FALLS
Guided nature walks and cultural walks: Tourists can have a walk to view the waterfalls from across a bridge, spot a number of wildlife including monkeys, birds, and butterflies, explore the shrines and learn a lot about the history of the falls under the local site guide.
Bird watching: The falls has about 200 bird species which has been recorded, there are habitats of birds which include the water, forest, garden, and this activity mostly takes 4-6 hours to watch the different bird species which include African Fin foot, Shinning Blue Kingfisher, Emerald Cuckoo, Great Blue Turaco, Striped Kingfisher, White-spotted Fluff tails, Red-headed Malimbe among others.
Rock climbing: It is a light hike around the top of the falls where you can access the falls as water flows from the river to the rocks through the bushes this can be done during the guided nature walk.
There are various accommodation facilities that can be found at the falls, especially for the tourists who are coming camping and spending some days at the falls.