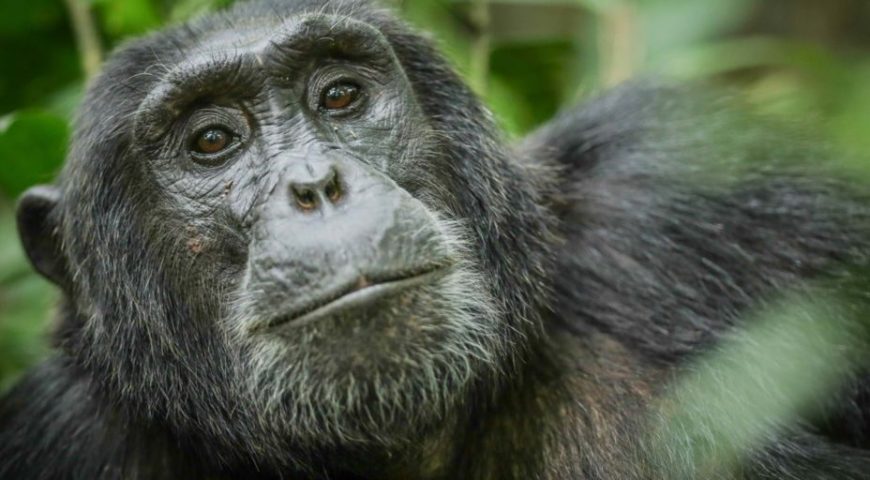 Chimpanzee tracking in Kyambura Gorge
Kyambura Gorge is one of the wonderful places full of breath-taking scenes and better wildlife scenes in the eastern part of Queen Elizabeth National Park, which is regarded as a medley of wonders. The gorge, as it is, forms the splendid view for tourists and travelers as you approach this wonderful park following the Mbarara-Kasese road. It is only in Kyambura Gorge that you can clearly see, with your naked eyes, the chimpanzees at close range. Because it is so close to Uganda's equator, the Kyambura Gorge is covered in tropical rain forest. The Kyambura River is the only river that drains this wonderful gorge, and this also attracts several animals to it.
Through a huge swamp/wetland, Kyambura Gorge leads to the Kazinga Channel in Queen Elizabeth National Park. According to local folklore, severe rains previously wreaked havoc in the region, causing large floods that washed away several residents and their belongings. People went out looking for lost loved ones and property once the rains stopped and the floods subsided, but they were unsuccessful.
Visitors have a decent possibility of hearing and seeing our distant cousins, even though sightings are not guaranteed. Tours run from 8 a.m. to 2 p.m. every day and last between one and three hours. The Kyambura Gorge is one of the sites where primates live in Queen Elizabeth National Park in southern Uganda. Because Queen Elizabeth National Park is closer to Bwindi Impenetrable National Park, we usually encourage our guests interested in gorilla tracking and chimp treks to travel to Kyambura Gorge for this experience.
Because of the tiny colony of chimpanzees and other smaller primates imprisoned in the forest, Kyambura Gorge is commonly referred to as the "Valley of Apes." The chimp population at Kyambura Gorge is habituated, making it the only area in Queen Elizabeth National Park where tourists may see the primates.
Is tracking chimpanzees the biggest activity and attraction in Kyambura Gorge?
Chimpanzee tracking is, without a doubt, the most appealing activity in Kyambura Gorge.  Chimpanzees are man's closest cousins and, in comparison to other primates, they are extremely clever. Chimpanzees can move with two legs like human beings for short distances, but they prefer to utilize all four climbs. Chimpanzees stay in 30 to 80 individual chimpanzees. Large groups of chimpanzees are broken up into smaller groups that eat individually before returning to the larger group before nightfall. In the afternoons and at night, they make nests on the tops of trees to rest. It takes only a few minutes to construct the nests, which are made by bending many tree branches together to produce a cozy chimp couch.
Chimpanzees are at their most active after emerging from their makeshift nests in the morning. They begin by picking up fruit at random in the morning, then become easier as the day progresses. Chimps will utilize stems to combat opponents, even people, due to their superior intellect. Termites may be lured out of their burrows using the same stems. Despite their preference for fruits, chimpanzees may kill tiny antelopes and other primates for food. The hunt is conducted in a group, with the unfortunate victim being pursued, corned, and devoured.
For thousands of years, chimpanzees from Kyambura Gorge would use a natural and narrower forest corridor to forage and breed with chimps from Katsyoha-Kitoma, Maramagambo, and Kalinzu. Humans deforested this woodland corridor and established new villages, essentially destroying it. In the gorge, the chimps were stranded. The Savannah, which is full of predators like lions, leopards, and hyenas, is the only way to get to the other woodlands. The chimps had no choice but to stay in the gorge and make their own way. Inbreeding has been linked to mutations and low birth rates, according to scientists.
Let's explore the chimpanzee trekking experience in Kyambura Gorge.
Chimp trekking is the most popular activity in the gorge. All hiking activities in Kyambura Gorge are governed by the Uganda Wildlife Authority, which also distributes chimp permits. Permits to hike with the Kyambura chimps cost $50.00 per person per trip for both foreign residents and non-foreign residents, and it's only UX30,000 for East African citizens and may be purchased through UWA headquarters in Kampala or on the ground.
Two sessions of chimp trekking are offered in Kyambura Gorge (morning and afternoon). Early in the morning, the first session begins with a briefing at the Gorge Visitors Center.
In each session, the Uganda Wildlife Authority only awards eight permits, for a total of 16 permits each day. Visitors must travel from Mweya to the gorge for an orientation. Visitors are given a walking stick and guided down the gorge after the briefing. The initial objective is to descend the 200-meter hill to the valley's river. Chimpanzees are quite noisy, and tracking their hoots and distant screams might help you find them first get a Uganda Wildlife Authority license. The park authorities in Mweya issue the permits.
These chimpanzee tickets include a guide for the day and allow you to spend one hour with habituated chimps. Because this monkey walk might be tough at times, it is recommended that you have some prior expertise. Because the hike involves climbing and descending, walking sticks are essential in the gorge.
If they remain silent, their chimpanzee trekking in Kyambura Gorge footprints (in mud) and dung might be used to locate them. You'll be able to watch them play, breastfeed, mate, relax, and even fight after you've found them. When the chimps in Kyambura Gorge meet people, they have a fascinating habit of climbing down the trees.
This enables excellent close-up photography. Aside from the chimps, going down the valley exposes tourists to incredible wildlife. Rare vegetation and towering tropical trees will be available for viewing by visitors. Hippos, elephants (on rare occasions), and other smaller primates can be found in the gorge.
Hippos and other animals are occasionally seen, which is a positive. Daily, the Uganda Wildlife Authority provides eight morning permits and eight afternoon permits. Because there are only 16 permits available, it is necessary to reserve ahead of time to prevent a shortage.
Chimpanzee tracking at Kyambura Gorge is difficult due to the need to hike up and down a valley. Once you reach the bottom of the gorge, you may need to spend some time following the primates. To accomplish the exercise without putting too much strain on the body, one must be physically fit.
For individuals who enjoy nature, though, the exercise is extremely satisfying. Exploring a subterranean forest with incredible flora and creatures is a once-in-a-lifetime opportunity. The event will stay with you for the rest of your life. To participate in chimpanzee tracking, one must be at least 12 years old.
The possibilities of sighting chimps aren't as good as they are in Kibale forest. This is due to the fact that the chimpanzees occasionally venture too deep into the canyon, making it hard to reach them in a timely manner. The chimp is seen by the majority of visitors, and just a few people miss it.
What is the cost of tracking chimpanzees in Kyambura Gorge?
In Kyambura Gorge, all of the chimps have been trained and are used to human beings in a process called chimpanzee habituation. International visitors can get chimpanzee tracking permits in Kyambura Gorge for $50 and the same for international residents. Ugandans and East African residents pay 30,000 shillings apiece. It is critical to reserve permits ahead of time in order to avoid being disappointed at the last minute.
Other than chimpanzees, what are other tourist attractions or activities in Kyambura Gorge?
Nature walks and forest trail safaris in Kyambura Gorge
The Kyambura Gorge is a spectacular location to visit. While visiting Queen Elizabeth National Park, many tourists focus on the Savannah and the animals. They have no idea that they are missing out on one of nature's most amazing sights while at work. Apart from the natural splendor, you have the impression of being in another universe — somewhere fascinating and intriguing. Large forest pigs, Colobus monkeys, re-tailed monkeys, and hippos may all be seen on guided nature excursions, which can be done in conjunction with chimpanzee tracking or alone on foot.
How are nature walks done in Kyambura Gorge?
Kyambura Gorge offers nature hikes. The Kyambura Wildlife Reserve safari nature walks will transport you to another universe. You are immediately transported from the scorching Savannah that surrounds the gorge to a cold subterranean forest with stunning tree canopies and interesting wildlife. Your guide will tell you about the valley's history as well as the creatures and birds that live there. The nature walks are held in two shifts, one in the morning and the other in the afternoon. Early morning nature walks begin at 8:00 a.m., and afternoon nature walks begin at 1:00 p.m., both from the fig tree camp. During each session, only two groups are allowed to participate in the nature walks. Each group usually consists of four people.
Bird watching safaris in the Kyambura Gorge: The Kyambura Gorge is a birdwatcher's dream. Birds are drawn to the gorge because of the towering trees and beautiful environment. Fruits and insects abound in the trees, which the birds like. Most of the Kyambura Gorge Birds are forest inhabitants, but there are also a large number of birds that specifically visit the gorge to feed before returning to their nests in the Savannah or marshes around Lake Albert and George. African broadbills, Martial Eagles, falcons, African finfoot, Verreaux's Eagle Owl, African skimmers, White-tailed Lark, Bar-tailed Godwit, black-headed bee-eaters, Pinkbacked Pelican, Shoebill storks, Corncrake, papyrus canary, Chapin's Flycatcher, papyrus gonolek, Black-rumped Buttonquail, white-winged warbler among other species of birds.
Primate or wildlife watching safari in Kyambura Gorge: other than chimpanzees, Kyambura Gorge still has a lot to offer, including baboons, Vervet Monkeys, red-tailed monkeys, and Colobus monkeys. From the gorge's edge or while still on the Savannah, you may start spotting monkeys and birds feeding down the valley. This view of Savannah from the outskirts is breathtaking. Rather than descending into the canyon, tourists may just wander along the gorge's walls to take in the beauty. If you choose to travel down the valley, expect to see various woodland animals, including hippos, antelopes, and elephants. The gorge is also frequented by lions, hyenas, buffaloes, leopards, and other species.
What is the best time for you to explore or trek chimpanzees in Kyambura Gorge?
The optimum time to visit Kyambura Gorge for chimp trekking is during the country's two dry seasons: January and February, and June to September. This represents the best season for chimpanzee trekking in the Kyambura Gorge. Therefore, you need to book with Vibrant Holiday Safaris so that you can get all the wonderful information that you might need and enjoy.
Lodges and hotels in and around Kyambura Gorge
There are a variety of lodging options around Kyambura Gorge, ranging from basic to luxury. Visitors can also stay in lodges near the Queen Elizabeth National Park headquarters and visit the gorge early in the morning for activities. Mweya hostel and Simba safari resort are two inexpensive options. Bush lodge, Ihamba safari lodge, and Hippo Hills Resort are some of the mid-range lodges. Jacana Safari Lodge, Katara Lodge, Kingfisher Camp, and Mweya Safari Lodge are some of the most luxurious lodges in the area. Kyambura Gorge Safari Lodge is unquestionably the best option for people looking to stay in a real luxury lodge near the Gorge.
Volcanoes Safaris owns Kyambura Gorge Lodge, which launched in 2009. The lodge is the most convenient luxury hotel in Kyambura Gorge. The eight cottages are all made using local materials and spaced out in the African bush to provide visitors with the seclusion they seek.
Free Wi-Fi, a balcony, high-end bathrooms, flush toilets, mosquito nets, and a working desk are among the numerous luxury amenities available in the rooms. The hotel features a bar, a fireplace, and a restaurant serving both local and foreign cuisine.
Kyambura Game Lodge has its own private garden where indigenous veggies and fruits are cultivated and provided to guests during meals. Guests may hear animal and bug noises at Kyambura Game Lodge since the nights are particularly calm. Because the lodge has a limited number of rooms, the staff pays close attention to the needs of guests. For the evening's entertainment, traditional dances and other performances by one of the indigenous tribes are planned for the evening.
Getting to Kyambura Gorge
The gorge is approximately 420 kilometers from Kampala through Mbarara town. The distance is 410 kilometers if you take the Kampala-Fort Portal route. Visitors can access Kyambura Gorge by either road or air transport
The journey from Kyambura Gorge Road to Queen Elizabeth National Park takes around 6 hours. Tourists can take a chartered airplane from Entebbe international airport to the airfield at Mweya to avoid the long trek by car. It takes roughly an hour to get there.
A private car can be hired from the airfield to transport you to the Mweya Visitors Center by your tour operator or hotel. You will then be taken to Kyambura Gorge after paying for your tickets in Mweya.
The Mweya Visitors Centre is 30 kilometers from the Kyambura Gorge. At Fig Tree Camp, right on the border of the Gorge, the Kyambura Gorge has its own little visitor center.