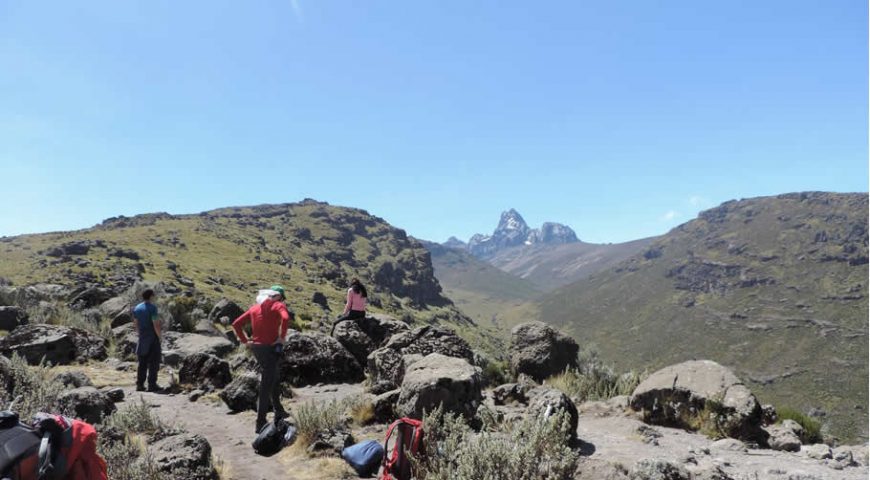 What to do in Mountain Elgon National Park?
What to do in Mountain Elgon National Park? The park offers a number of tourism activities such as mountain climbing, bird watching and cultural tours.
Mountain climbing/hiking safaris
Climbing Mountain Elgon offers the best scenic views to travelers and it is less tiresome. There different routes that tourists use to hike the mountain Elgon national park. Climbing mountain Elgon is so interesting with tourists reaching the highest peak of the mountain known as Wagagai which is. As id this is not enough, you will explore the world's largest caldera as you descend from the mountain.
Different trails such as Sasa trails commences from lower slopes in Budadiri town. You can hike and reach the suit and then you get back to Budadari and this takes for 3 or 4 comfortable days. This trail is a bit stiff and as you will ascend as high as 1650m including even Mudangi Cliffs. The other trail includes a Sipi tail that is long but gently hiked. You can as well use pas and Suam trails to hike and climb Mountain Elgon National park. To ensure your hiking experience is nice, some local porters are always available to help you carry luggage. Hiking is good as it enhances physical fitness and prevents diseases such as hypertension .you can as well hike the side of a mountain in Kenya but here you will need official documents to allow you in Kenya. You will need 75USD to engage in mountain Elgon Climbing in Mountain Elgon National Park.
Birding watching safaris 
There are different trails that tourists follow and can lead them to the best birding sports. You can spot bird species in Mountain Elgon National Park that cannot be spotted anywhere in Uganda. Birds can be seen in shrubs, near or around the Cheptui falls and the best birding safaris are carried out in Kapwai at the Forest Exploration center. Mountain Elgon National Park harbors Dohertys and Luhders Bush Shrikes, Blue Fly Cather, black and white Casqued, white-Chainned Prinia Crowned Hornbills among others. Come and enjoy your best birding destination in East Africa by Visiting Mountain Elgon National Park.
Safari trips to the caves
Mountain Elgon National Park features caves that were formed at the same time as the formation of mountains itself. The prominent caves include Mackigeny, Kitum, Kapkwai, and Khauka caves which can be explored on Wanale ridge.  Caves in mountain Elgon National Park were once used by local people and their animals as their homes. You can as well bypass via Nyero rock paintings outside the park which offers an amazing adventure and beautiful sceneries.
Abseiling adventure safaris
This is a brave thrilling activity that is carried down the cliff as the tourists is firmed within a rope-like device that is tired around the harness. This activity is done only at Sipi falls found in Mountain Elgon National Park in Uganda. You will have to drop down tied in a rope for about a hindered meters as you see the water just down where you are heading. This activity is done professionally with well-trained guides and effective equipment.
Rock climbing safaris
Tourists can also engage in rock climbing especially with the basalts clips that have been bolted to make climbing simpler for the tourists. Still, rock climbing is done around Sipi falls and it can take you about 6 hours to climb the rocks. Tooro rock is also available for rock climbing and you can explore this rock for about three hours. Tourists intending to Participated in Rock climbing can Contact Mountain of club Uganda or book with a local agency like Vibrant Holiday Safaris for more details.
Sport fishing safaris
Mountain Elgon national park because of its harboring Sipi falls, presents a rainbow stout that attracts different fish species. Sport fishing is carryout around Sipi falls where fish is called and released back to the water. You need to make sure that you start early your sport fishing safaris in the morning for you to succeed in this activity. Visitors or anglers will need to have sportfishing gear and acquire a fishing permit including packed lunch and water.
Culture tour safaris
Visiting Mountain Elgon is offers the best experiences for cultural tours since the region is the best destination for cultural tours. Bagisu around Mountain Elgon National park is known for having a strong cultural attachment. The major cultural ceremony for Bashsu is when they initiate the young men into adulthood by practicing a lot of ceremonies that end up to circumcision activities.it is very hard for a young boy to marry when he has not been circumcised. This a strong ceremony that is usually carried out in December and October with people singing and charting Lugisu songs as they are escorting young boys to be initiated into adulthood by circumcising them. Budadiri cultural walks are also nice and people or tourists following this trail can go and learn how the people translate bamboo shoots into local food known as Malewa.
Mountain biking safaris
Mountain Elgon National park provides good grounds for biking routes for tourists. Routes for biking Safaris Usuallsaly start from Sipi trading center up to the Hill in Chema Kapchorwa. Kapchorwa District is full of hills that offer good routes for biking especially for long-distance runners. Even running routes have been organized for runners which have also been utilized by bikers.
Coffee plantation tours
Mountain Elgon National park receives heavy rainfall and is characterized by volcanic soils that favor the growth of different crops. Usually, the Bugisu region is well known for Arabica coffee growing. Tourists can request the arranged Arabic coffee plantation tours to learn how best coffee is planted, harvested, and processed. A local farmer who is also a guide will also help you via plantations or you can also visit the coffee factory at Budadiri.